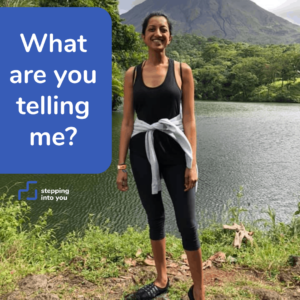 Have you ever got a sore neck and wondered what and how you did it?
Or any other ailment or condition?
I remember a colleague of mine complaining of a neck ache…wondering if it was because of a change in his computer screen height, his new pillows at home, how he was sitting, if he'd done any strange over-exerted lifting…
This got me thinking about a recent experience as I was doing some skills development and practicing my processes with a colleague. As I played the client, my area for work in the session was my lower back pain and soreness in my glutes.
Using the PSYCH-K processes we explored if there were any messages that this condition had to share. For those of you who are familiar with Louise Hay's work, you'll know that our physical conditions are a manifestation of emotional and/or mental state of being.
PSYCH-K, allowing a communication with the subconscious, dug a little deeper to what was going on and what my body was trying to tell me. The message…the letting go of an old relationship. I came up with a belief statement (new thought pattern) and my PSYCH-K Facilitator balanced it with me. In the balance I literally felt tingles in my pelvic area which then moved down my legs. It felt like blocked energy releasing out of my body.  Within an hour, all of the pain was gone.  The power here is identifying what was going on, balancing limiting beliefs, acknowledging it and putting some actions in place to move forward in a direction that was better aligned with my best and highest self.
Creating space in my mental and emotional self to allow my body to heal itself.
So getting back to my colleague, I did actually say to him "I wonder what your body is trying to communication to you…"
I'll pose the same to you "I wonder what your body is trying to communicate to you…"
Let me know what your messages are…and if you'd like to find and balance these messages to accelerate your change potential you can book for a FREE Clarity Call to discuss.
Be your best,
Bhavna xx