Understanding yourself, whether through feedback or through self assessment tests like DiSC can significantly increase your opportunities for development, whilst giving you a chance to celebrate the greatness that you already posses. Below is my, Bhavna, DiSC intensity index.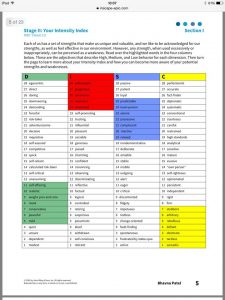 It's useful to remind yourself that when you complete psychometric tests, they highlight your preferences or the way in which you are most comfortable to operate. We will all, through our careers and other experiences, learn many other required skills that do take us out of our comfort zones, but allow us to perform our jobs more successfully.
One of my examples of the latter include giving constructive feedback to colleagues. This used to be an uncomfortable thing for me to do, which quickly became a limitation in the positions I was working in. So I had to develop a technique fast and get comfortable quickly!
I already knew how to give feedback, but it was the uncomfortable feeling of potentially offending the other person that got me stuck. So I reframed to focus on the positive intention, that it is providing opportunity for my colleague(s) to increase their self awareness and growth potential. Delivering this with honesty, respect and kindness (my comfort places), I am much more confident I having these important conversations. What are the overall results: maintaining rapport whilst building and receiving a higher level of respect from the other person.
Bhavna Patel